Back Taxes Help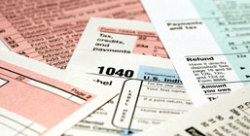 If snowballing back taxes have you feeling frustrated and overwhelmed, don't delay in contacting Taxation Solutions, Inc. We're available to help individuals and business entities in Greensboro resolve back tax problems, and we're standing by to take your call! Our tax help is knowledgeable and skilled. We have 40 years of experience among our staff, and we'll put everything we've learned in that time to work on your case. As a licensed and insured tax assistance firm, we hold all of the qualifications you expect and deserve. Our affiliation with the American Society of Tax Problem Solvers, the National Association of Enrolled Agents, and the National Association of Tax Professionals stands as a testament to our commitment to our clients. Call today to learn more, and to book your initial consultation!
We can provide help with delinquent taxes at any stage of the process. Whether you filed a single tax return late or you're years past due, we've got you covered. Depending on your specific situation, our help with back taxes might include:
Filing late tax returns
Amending misfiled returns
Determining the total amount you owe
Negotiating tax settlements and penalty abatement
Lifting liens and levies on your account
Stopping wage garnishment
Advising you on avoiding back taxes in the future
Our top priority is customer service. We understand that back tax troubles can be extremely stressful, and we'll handle your case with skill and care. Your finances and your peace of mind are in good hands when you choose Taxation Solutions, Inc. 
Emergency Back Taxes Help
When you're dealing with unpaid taxes, it's vital to resolve the situation as soon as possible. The longer you wait to deal with your IRS back taxes, the worse things will become, due to the penalties and fees that the government can impose to encourage payment. If you're up against a tight deadline—for instance, if you're facing seizure of your assets to cover delinquent taxes—Taxation Solutions, Inc. is the company to call for swift and effective results. We offer emergency tax help to clients who simply can't wait for our specialized services. Contact us needing immediate tax assistance, and we'll get right to work. 
For more on what sets Taxation Solutions, Inc. apart from other companies offering help with back taxes in and around Greensboro, call or e-mail us today! We'll be happy to answer your questions and to give you a free cost estimate for our services. Unpaid taxes have had you down for too long: We want you to see the light at the end of the tunnel. 
Back Tax Problems
IRS Back Taxes
Back Taxes Assistance
Tax Help
Delinquent Taxes