IRS Audits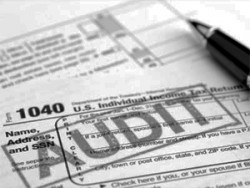 Receiving notice of a pending audit by the IRS can be scary and overwhelming. You might imagine the tax authorities going through your financial records with a fine-toothed comb, looking for any reason to hit you with heavy penalties and fines. However, with the right audit defense on your side, an IRS audit doesn't have to spell disaster. In and around Greensboro, you can count on Taxation Solutions, Inc. for superior IRS audit help. We work with both individual and business taxpayers, leaving no stone unturned in our quest to get you the best possible audit outcome. Ready to get started? Schedule your initial consultation and get a free cost estimate for our IRS audit representation services by calling now!
There are a variety of reasons why your tax return might be audited. Perhaps you've made a mistake on your paperwork or miscalculated what you owe. Maybe you've claimed too many red-flag deductions. Or perhaps you're one of the unlucky people who find themselves facing an IRS audit completely at random. Whatever your situation, Taxation Solutions, Inc. can help you find a way forward. Our audit defense services include:
Helping you gather documentation to support your claims
Speaking on your behalf during the audit proceedings
Negotiating a tax settlement if the audit does not find in your favor
Getting IRS audit penalties lifted from your account
Advising you on avoiding an IRS tax audit in the future
We have the knowledge and skill you need on your side of the table when interacting with the tax authorities. We'll always strive for a solution that meets the IRS's demands while also helping you avoid financial difficulties. Our IRS audit help is truly top notch.
Experienced IRS Audit Defense
One of the things that sets Taxation Solutions, Inc. apart from other companies offering IRS audit representation in Greensboro is our decades of experience. Our staff has 40 years in the industry under our belts, and we'll call upon the expertise and negotiating prowess we've gained during those years on the job to ensure that you get superior service. Plus, because we're licensed and insured for IRS audit defense, you can breathe easy knowing your case is in capable hands.
Taxation Solutions, Inc. is affiliated with the American Society of Tax Problem Solvers, the National Association of Enrolled Agents, and the National Association of Tax Professionals. We'll work hard to give you a smooth and hassle-free IRS tax audit process. So what are you waiting for? Get in touch today to book your appointment with us! We even offer emergency IRS auditing assistance, if you're up against a tight deadline. We have your best interests at heart. 
irs audit
offer in compromise
tax audit