Tax Relief for Truckers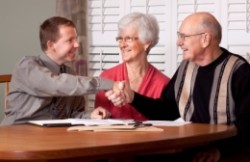 Are you a trucker in desperate need of tax debt relief? Come to Taxation Solutions, Inc. for knowledgeable and skilled tax relief services and look forward to seeing the light at the end of the tunnel. Not only are we an extremely qualified tax relief company, we also understand the unique situation your job places you in. From spending long stretches of time on the road and away from home to potentially receiving payment and owing taxes in multiple states, truck drivers can fall victim to specific tax problems—and we know how to solve those problems. Get in touch with Taxation Solutions, Inc. today to discuss the tax relief help you need, and to get a free cost estimate for our services!
There are many ways in which we can help you enjoy IRS tax relief. These include:
Representing you during audit proceedings
Filing back taxes and amending misfiled returns
Negotiating settlements with the IRS
Petitioning to have penalties removed from your account
Advising you on avoiding tax troubles in the future
We're staffed with a variety of tax debt relief specialists, including a tax relief attorney. Whatever tax problems bring you to our door, we have someone on our team who's ideally suited to tackle the job. As a licensed and insured tax relief company, we're qualified to resolve individual and business tax problems on both the federal and state levels. We can also represent our clients in federal tax court. Thanks to our 40 years of experience in tax relief services, we're able to quickly come up with an effective plan of action to ease your financial burdens and worry. We're one of Greensboro's most trusted tax relief companies, always putting customer service first.
Emergency Tax Relief Help
One of the biggest hazards of holding a job that keeps you away from home is missing important notices from the IRS. If you've just learned that a deadline is looming, don't hesitate to call Taxation Solutions, Inc. We offer emergency IRS tax relief assistance for truckers and other taxpayers, stepping in to promptly and reliably meet your needs. Whether you're facing wage garnishment or you need to prepare for an IRS audit that's just around the corner, we'll take that deadline in stride and work hard for you.
Want to learn more about Taxation Solutions, Inc.? Call or e-mail us to ask your questions and discuss the IRS tax debt relief you're seeking. We'll be happy to tell you about what sets us apart from other Greensboro-area tax firms, including our affiliation with organizations such as the American Society of Tax Problem Solvers, the National Association of Enrolled Agents, and the National Association of Tax Professionals. Then, when you're ready to get started, we'll jump right in. We want to help you leave your tax problems in the rear-view mirror. Contact us now! 
truck driver tax help
tax relief